Costzon 3 in 1 Ride on Tractor, Excavator & Bulldozer, 12V Battery Powered Electric Vehicle w/ Trailer
Delivery to Canada & USA
USA: Delivered within 3-7 Days
Description:
12V battery-powered electric construction vehicle brings driving fun!
This 3 1 kids' ride-on excavator comes with a shovel bucket, a digging bucket, and a trailer that can be detached and combined freely. There are 2 control ways to operate this electric excavator: the steering wheel and foot pedal for children, and the remote control for parents. And the seat belt also provides maximum safety for kids. With stable and durable wheels, it can run on rubber tracks, cement roads, wooden floors, etc. While driving, the MP3 and USB ports let children play audio files to have more fun. Also, the cup holder allows your kid to drink water outdoors. With the ASTM and CPSIA certifications, our 3 1 kids' ride-on bulldozer is a safe and perfect gift for children.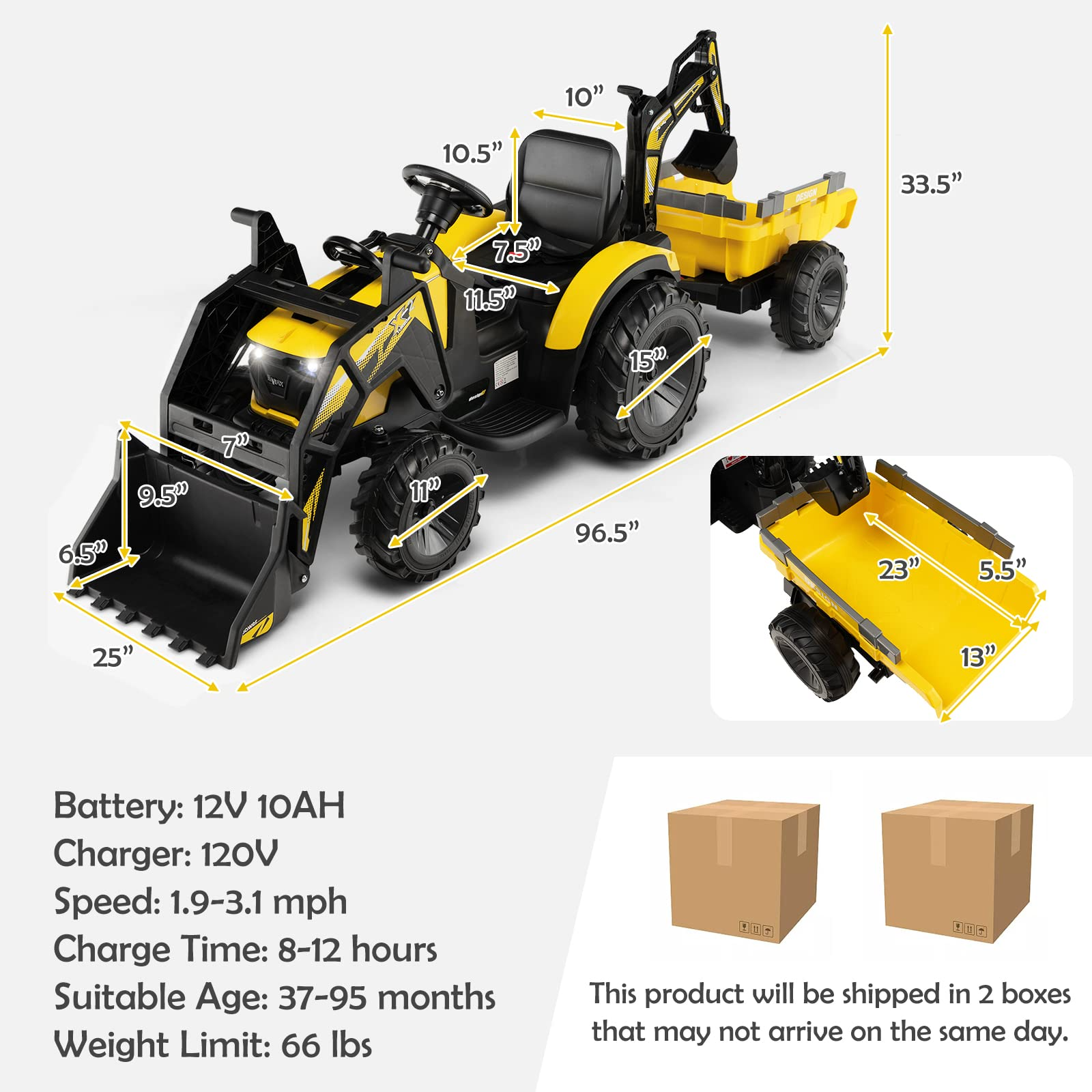 Features
Note: There are two boxes for this ride-on tractor. Please wait patiently for both boxes delivered before assembly. : )
3 1 Electric Tractor: This electric construction vehicle comes with a shovel bucket, digging bucket, and trailer. Parents can freely choose and install the desired parts to make a bulldozer, an excavator, or a tractor, giving children a more authentic experience.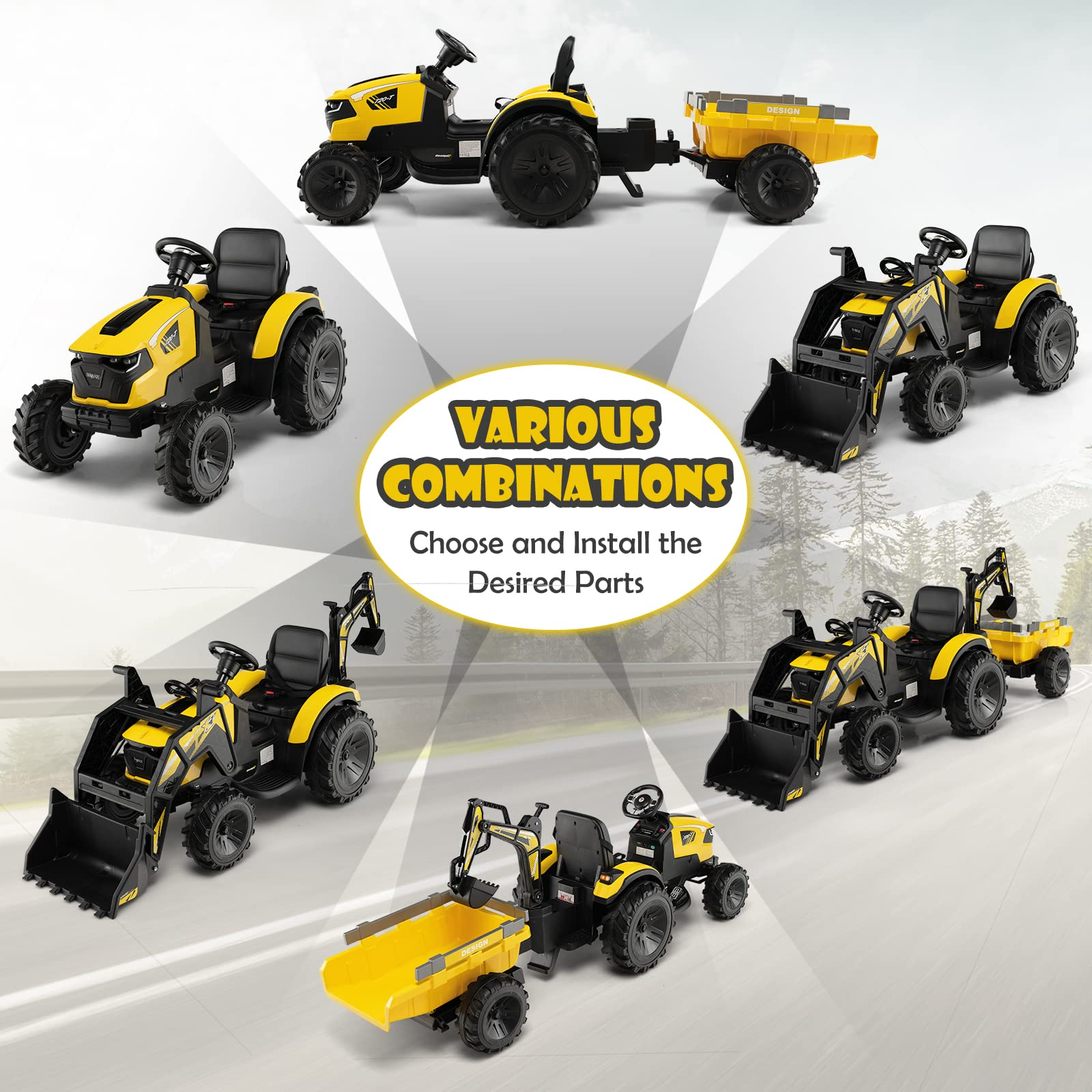 2 Driving Modes with RC: Children can control this ride-on tractor through the steering wheel and the accelerator pedal. Additionally, parents can operate the tractor with the 2.4G remote control that requires a 2 x 1.5V AAA battery (not included). Parents can ride the kid around for interactions and safety.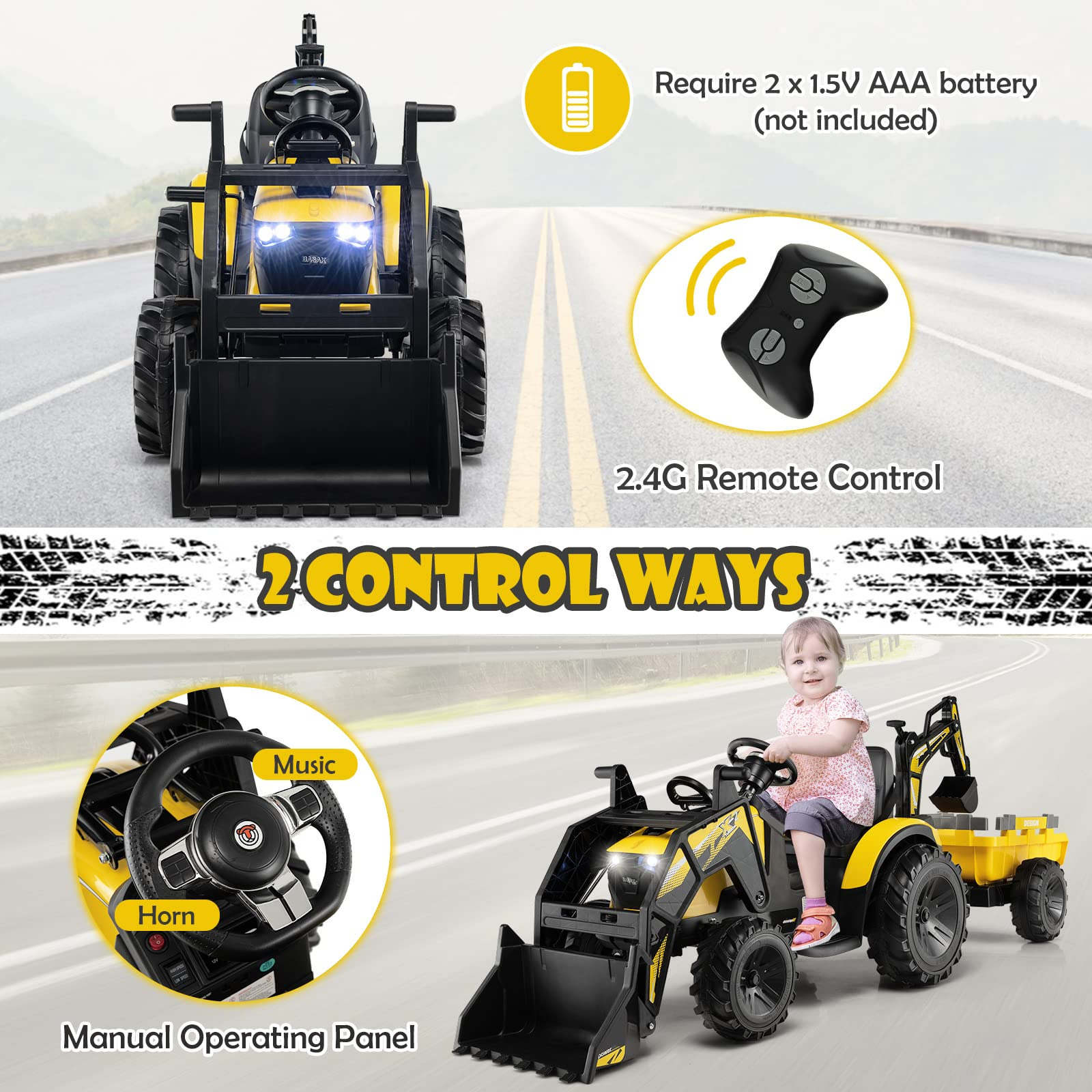 Durable & Safety Designs: Equipped with 6 non-slip, shock-absorbing, and wear-resistant wheels that are made of PP and EVA, this electric excavator with trailer is suitable for different flat roads, such as asphalt roads, brick roads, boardwalks, etc. Also, the soft start function and seat with a safety belt ensure a great safe drive.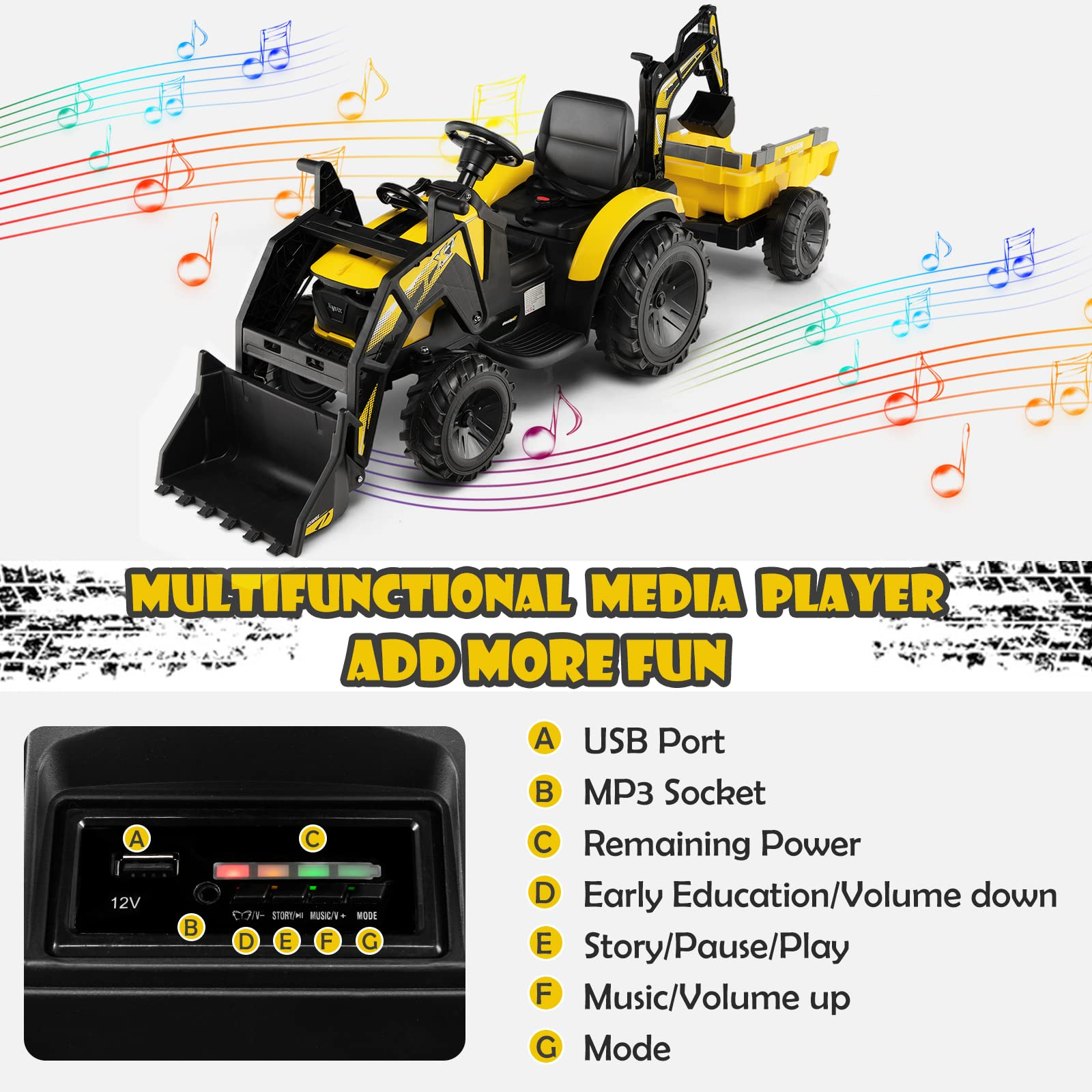 Music Function Adds More Fun: The multifunctional music player on the manual operating panel features the remaining power display, play/pause function, mode selection, and volume adjustment. The USB port and MP3 socket allow children to enjoy their favorite songs or stories, and buttons on the steering wheel can make the music and horn.
Great Children's Gift: This electric ride-on excavator simulates a real construction vehicle, and its cool look will appeal to children. More than just playing, kids can use the trailer to help parents to transport fallen leaves or store their toys. They can improve their hands-on skills and develop good habits of tidying up items.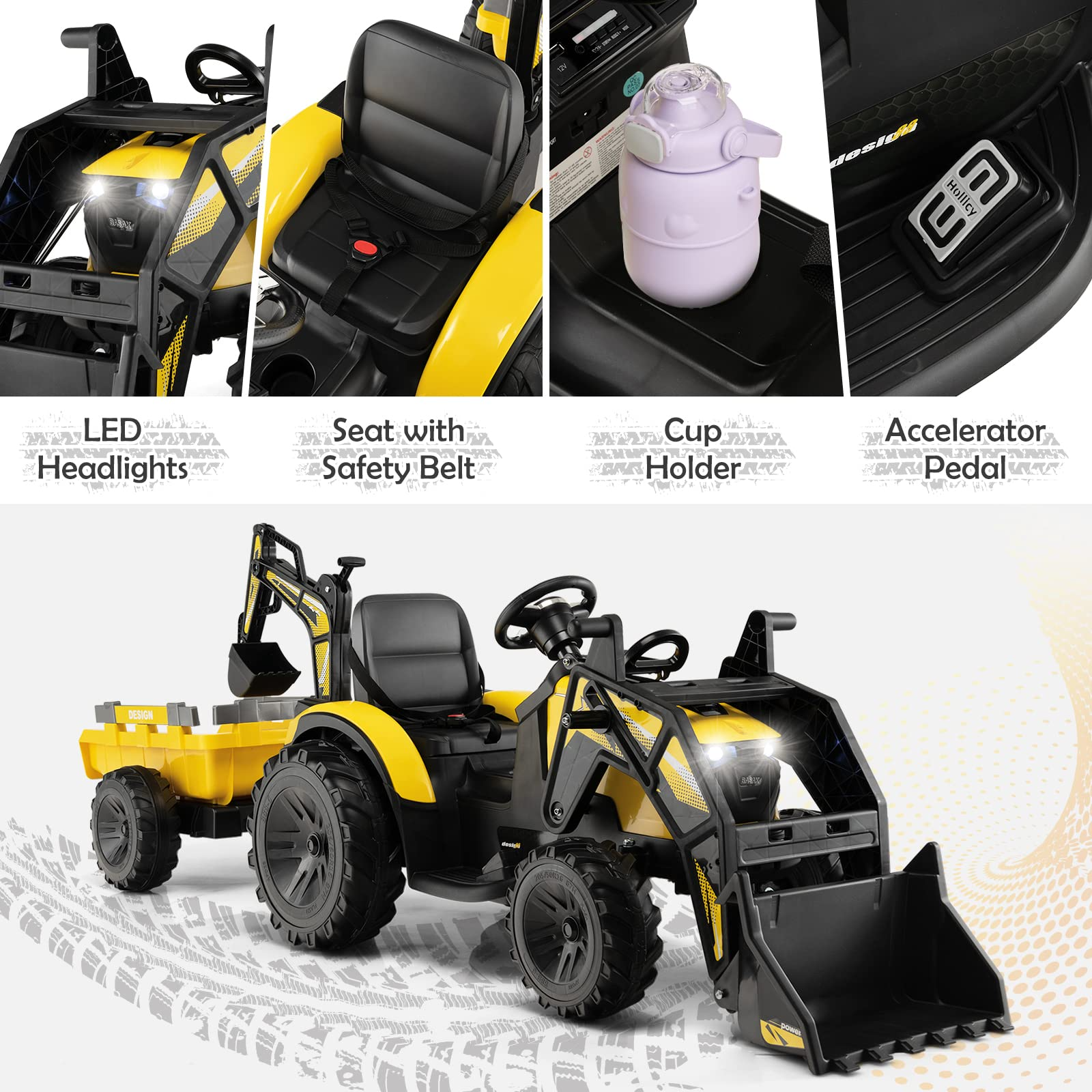 Specifications:

Color: Green
Material: PP, Steel, EVA
Overall Dimension: 96.5" x 25" x 33.5"(L x W x H)
Net Weight: 42 lbs
Weight Capacity: 66 lbs
Battery: 12V 10AH
Charger: 120-240 V
Charging Time: 8-12 hours
Speed: 1.9-3.1 mph
Battery Required for Remote Control: 2 x 1.5 V AAA Battery (Not Included)
Suitable Age: 37-95 months
Package Includes:
1 x 3 in-1 Kids Ride On Excavator
1 x Remote Control
1 x Charger
1 x Instruction
Note: There are two boxes for this ride-on tractor. Please wait patiently for both boxes delivered before assembly. : )
The Costzon guarantee is simple: provide customers with 100% satisfaction with of our Costzon branded items and services. If you are not happy with our service or product or in need of help, drop us an email to support@costzon.com and we won't stop working until you're satisfied.

We offer 90-day Limited Warranty and 30-day Return Guarantee:
Costzon has built its reputation by designing a comfortable and pleasant lifestyle experience without compromising on aesthetics. Each of our product uses innovative forms of scenic, perception and design to bring Costzon to life. If you receive any item not meeting expectation in 30 days from the date of purchase, please contact our service support team. Please refer to our Return Policy for more detailed information about returns. We guarantee that we will do our best to resolve your issue as quickly and thoroughly. We want you to be our lifelong customer.

We guarantee you a quick response:
Our support team pledges that we answer your inquiries up to 48 hours and will help and guide for many years to come.

We guarantee your privacy will be respected:
We will not distribute your email address, receipt information or any other personal information to others. We will never discuss your personal situation with anyone else. We want to earn your trust. We will always treat you with respect and we value your privacy. If you want to know more about how we use your information, please refer to our Privacy Policy.
Shipping Costs & Tax
1. Free Standard Shipping on all items.
Shipping charges apply to orders from Canada.

2.In accordance with state and local law, your online purchases is subject to state and local sales taxes in effect where delivery is made. If you live in a state that does not impose a sales tax, you may still see tax calculated on your order if shipped to another state. To the extent any of the factors affecting the calculation of sales tax change between the time you place an order and the time your credit card is charged, the amount appearing on your order as Tax may differ from the sales taxes ultimately charged. Your invoice will reflect the final total tax, which includes state and local taxes.

If you are a tax-exempt organization or reseller, you can apply here for tax exemption on your Costzon.com orders. Afer you finish, please send the completed form to support@costzon.com for review.

Shipping Locations
1. Shipping is only valid for shipping addresses in the United States (excluding Alaska, Hawaii, Puerto Rico, and Guam) & Canada  (excluding Northwest Territories, Nunavut, and Yukon) 

2. We do not deliver to FPO, APO, and PO Box addresses.

Shipping Methods
All orders are shipped out via UPS or USPS or FedEx or Pioneer.



Shipping and Delivery Estimates
We ship in-stock orders as soon as possible. This is often the day you placed it or the day after, but there are situations where it may take longer. If your item is in stock, your order is estimated to ship on the next business day. All estimates are based on business days.

If you choose to pay by credit card, your order will be billed within 24 hours. The items will usually be shipped out next business day after we received payment. If you have ordered multiple items with different delivery destinations, you may receive separate order shipments. Delivery will typically take 3 to 5 days, depending on your destination and the shipping carrier. In the event of any shipment not being fulfilled or shipped out after label creation, shipments exceeding 8 business days have the option to choose order cancellations or partial refunds. Please see return policy for more details.

When encountering with force majeure, the processing of orders will be delayed. Nevertheless, it is ensured that your order will be processed in a fast manner when weather permits.

Costzon takes every reasonable precaution to ensure that the products are not damaged during shipping. However, damage to products can occur during travel from the Costzon shipping facility to homes or businesses. If the item is damaged in transit, please choose the corresponding item in "My Orders" to apply for a refund or a return within 3 business days after receiving your package. Note any visible damages (scrapes, dents, etc.) or operationally damaged (the system will not work), take the digital photographs and provide Costzon with proof of the damage in detail as this will assist us in processing your order refund.

Orders Tracking
You will be sent at least 2 emails for each order you place:

Once you've placed an order, you will receive an Order Acknowledgement email to confirm your order details. Once your item ships, you will receive a Shipment Confirmation email including your order number, the carrier's information, the date and time the order was placed, the status of the order, and package tracking numbers for items that have shipped. For exact locations of your shipment, please track your items on the carrier's official website.

You can visit our online Order Status 24 hours a day, 7 days a week, to view the most up-to-date status of your order. Sign in with your Costzon account and password to get a summary of past orders by visiting our Track Your Order' Page for detailed steps of order tracking.

Note
1. Please verify you have the correct shipping address on your order PRIOR to making payment as this is the address we will ship to.

2. We are not responsible for any return shipping cost if product didn't meet your expectation nor placed a wrong order after order has been shipped out.

3.Items that weighs less than 150lbs will be dispatched by UPS. While, items that are weigh more than 150lbs will be delivered by truck.